Highgate's air is polluted but the community can be hopeful that plans will be in place to make it cleaner, was the message that attendees took away from the speakers at the Forum's AGM on Wednesday. The Forum will also be repeating some of the readings from our survey and proposing local actions to highlight the issue and improve air quality.
Rachel Allison, the outgoing chair of the Forum, explained that one of the main Forum projects this year had been the air quality survey. The citizen science project was crowd funded by the Forum buying over 40 NO2 diffusion tubes, which were erected around Highgate by pupils of Highgate School. The background to the project and the results were explained in the evening's first presentation by Marjolaine Briscoe. Highgate Hill, the High Street and Archway Road returned readings that were above the legal limit. (The full report, including a map and further links can be found here.)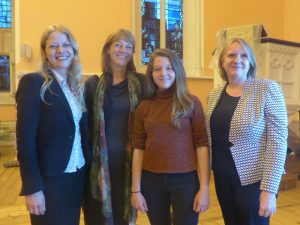 The first guest speaker was the campaigner, author and activist Sian Berry, who is a Green councillor of the Highgate ward (in Camden) and London Assembly member. She spoke enthusiastically about the many campaigns she has been involved with (including diffusion tube surveys around Camden) and her plans for pushing the Green agenda in London.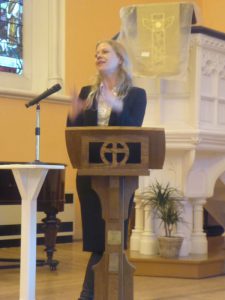 She was followed by Joanne McCartney who is the Labour representative on the London Assembly for Enfield and Haringey. She has been a member of the London Assembly since June 2004 and was appointed to the position of Deputy Mayor by Sadiq Khan. She said that, although the emerging evidence suggests that the pollution in London's air is declining, there was a strong desire to get cleaner air sooner to improve health, reduce inequality and meet legal requirements. She looked forward to a stronger ultra-low emission zone, "clean" bus corridors and reducing emissions from the bus stock. A consultation would be launched soon on the proposed policies to which she hopes the Forum would respond. (Her presentation is here.)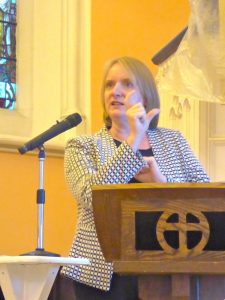 The other highlights of the Forum's year outlined by Rachel were:
Completing (another) draft of the plan and looking to a referendum timetable – hopefully late this year
Setting up the "pub club" which visits Highgate pubs every month
"Coffee and computers" sessions
Promoting the Highgate calendar
Responding to TfL proposals for the 271 terminus
Community Infrastructure Levy (CIL) planning, meetings and lobbying with DCLG and Councils
Being part of the panel for recruitment of Camden's Director of Planning
Monthly meetings with the Highgate Society
Numerous meetings with Councils
Responding to major planning applications
The financial statement was accepted. Rachel was presented with flowers and a gift as thanks for the incredible amount of work she had done in the last two years. The meeting was held at the United Reformed Church in Pond Square, and the Forum is grateful to the Minister, Julian Templeton, for his hospitality. All papers related to the AGM can be found here.