Highgate Neighbourhood Forum
Helping deliver the Highgate Neighbourhood Plan
Highgate Neighbourhood Forum
Helping deliver the Highgate Neighbourhood Plan
We're the Highgate Neighbourhood Forum
The HNF is a community-led organisation that works to make Highgate a vibrant place to live and work.
Our vision is a Highgate with a strong sense of community that protects its unique character and heritage while embracing fresh ideas and beneficial change.
The Highgate Neighbourhood Plan sets out to address the challenges – some common to all London areas, some unique – that Highgate faces today.
From busy high streets to thriving cultural and amenity societies, we must ensure there is something for everyone, and build on existing provision to meet local needs across all ages.
Everyone who lives in the Plan area is a member of the Forum.
Together with other organisations, we are working to make improvements to Highgate in these areas: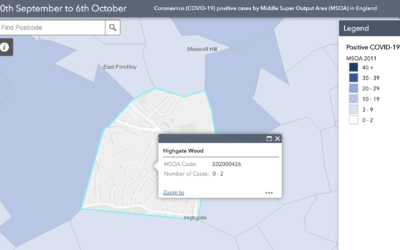 Covid-19 cases have been thankfully low in Highgate and show no signs at this stage of rising as they are in other parts of the country. This blog shows how to find data and keep weekly tabs on it. The government publishes a "Weekly national Influenza and COVID19...
The Forum is made up of people like you who care about making Highgate a better place to live and work. Come join us!