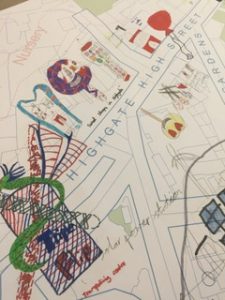 The Re-imagining Highgate Community Drawing Workshop was one of the many events that took place during the Highgate Festival.
The HNF hosted a workshop where we gathered ideas and drawings from pupils at St Michael's and Highgate Primary schools. With help from the Allford Hall Monaghan Morris Architects Sketch Club we developed a large map documenting participants' ideas.
The Forum is made up of people like you who care about making Highgate a better place to live and work. Come join us!