Do your neighbours own their home or are they living in something belonging to an off-shore company based in a tax haven? Now there's a map that answers the question!
Readers of Private Eye will know that it has recently been revealing the extent of ownership of British land by offshore companies, "generally for tax avoidance and often to conceal dubious wealth" in its words. Now the Eye has created an easily searchable online map of these properties, revealing for the first time the British property interests of companies based in tax havens from Panama to Luxembourg, and from Liechtenstein to the South Pacific island of Niue. Click on that map and zoom into where ever you fancy to see who owns places in your neighbourhood!
The map below shows just how many company-owned homes there are in central and north London. As the orange patches show, Highgate boasts a good number of large freehold properties on the northern edge of the Heath owned by tax haven entities.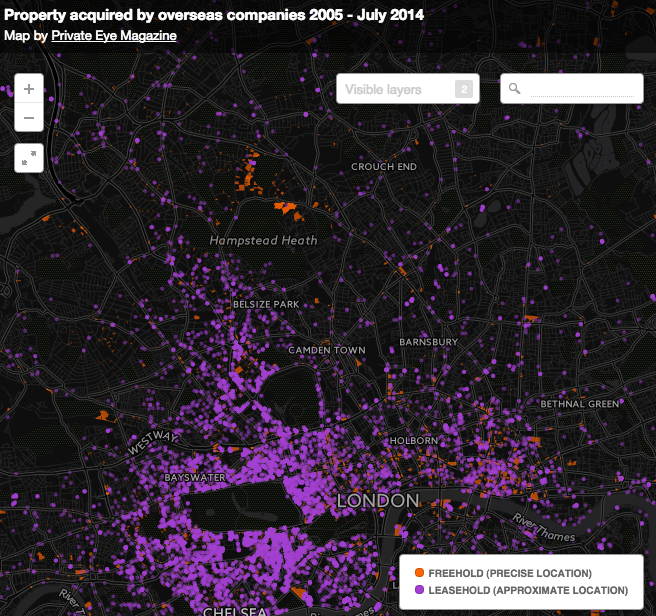 Zooming in a bit more reveals many of the places that might be expected to fall in this category: Witanhurst, Beechwood and Athlone, are the three largest plots, but there are many others including a good number on The Bishops Avenue, Compton and Courtney. What's more surprising is the number of far more modest properties down pretty normal (for Highgate) roads. Happy discovering!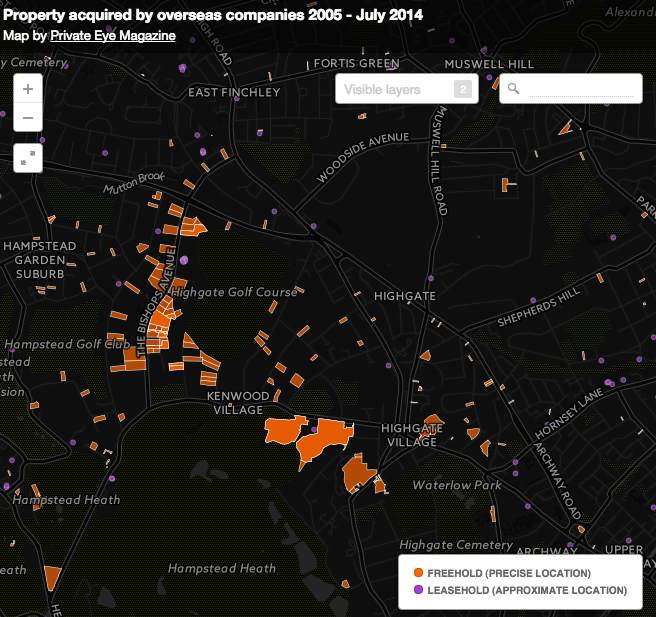 What the Eye did: Using Land Registry data released under Freedom of Information laws, and then linking more than 100,000 land title register entries to specific addresses, the Eye has tracked all leasehold and freehold interests acquired by offshore companies between 2005 and 2014.
Please read the notes on their page for caveats about accuracy of data. Also note the period in which the purchase must have occurred to be covered by the map – there will have been more bought before 2005 and more in the last year. The Eye article also sets out the reasons why people do this – mainly anonymity and fiscal advantages – and shares other juicy stories.