The Highgate Forum is hosting a "re-imagining the high street" event on Thursday 9 May between 6:00 – 8:30pm. It is really topical as recent weeks have seen a couple of shops close and another charity shop open its doors. Depressing perhaps, but it's always best to see these things in a longer sweep of time.
In 2000, I worked at the FT and sometimes contributed to a map feature in the weekend magazine. As the image shows, one such map was depicting how one side of Highgate High Street had changed over the previous century.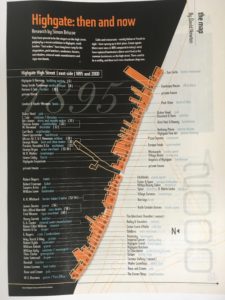 It showed that the pubs lasted well but the staymaker, seedsman and hosier and many other shops/businesses had long gone by 2000. In many cases, gone completely as functions/jobs not just as features on a high street. And there has been change since 2000.
It's not so dramatic, of course, but nearly half have changed ownership or activity. Estate agents, cafes and charity shops keep increasing in number. The rise of the dog has been reflected in the form of two new arrivals – a part shop part grooming parlour, and a vet – which is positive for one group of locals.
Meanwhile the loss of the corner shop, chocolate/card shop, (the already closing in 2000) hardware shop and travel agent have reduced the functionality of the High Street for residents. And perhaps the loss of some independents – the antiquarian bookseller, a shoe shop and bistro – damage the visitor appeal.
The other side of the High Street (which was not featured in the map) has seen the loss of a bank, in addition to, among others, the bookmakers and Chinese herbalist, with the net result of another charity shop and more unoccupied premises.