Boundary Commission proposals suggest a single dedicated councillor for Highgate in Camden. Do you support this?
Just as population movements require regular revisions to the boundaries of parliamentary constituencies, so too with the boundaries of Council wards.  Such reviews are becoming increasingly necessary as hundreds of thousands of new homes are being built in London, some of them in developments of over a thousand homes.
The area covered by the Highgate Neighbourhood Forum is split between two Highgate wards, one in Haringey, the other in Camden.  It is proposed that some of Camden's wards, including the one affecting Highgate, be changed.
When the Highgate Neighbourhood Forum was consulted by the Boundary Commission we suggested that when it redrew ward boundaries it should, wherever possible, align them with the boundaries of the borough's Neighbourhood Forums.  After all when these forums set up it was a requirement that their boundaries should be aligned with the boundaries between natural communities.
The existing ward map can be seen on the Camden web pages.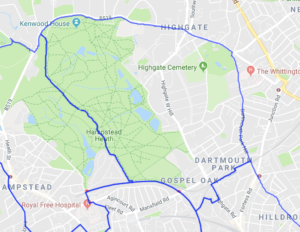 This suggestion was echoed by other campaigners and the LG Boundary Commission has interpreted this suggestion more radically than we had expected (see page 13 of the LGBC report).  Their latest proposals see the old Highgate ward divided into two, with the southern part called Dartmouth Park. Instead of three councillors over the whole old ward, the village will have a single dedicated councillor to itself and Dartmouth Park will have two.
Clearly there are arguments for and against the proposed arrangements.  At present the Village is represented in the Council chamber by three councillors, not necessarily all of the same party.  Under the proposals we would have only one.  On the other hand it could be argued that Highgate would benefit from having a councillor dedicated exclusively to the Village rather than sharing three with the more populous Dartmouth Park with its different planning issues and different demographic make-up.
It is not too late to express your preferences: You can find detailed maps of the proposed new boundaries at https://www.lgbce.org.uk/all-reviews/greater-london/greater-london/camden and it is not too late to send your comments to: reviews@lgbce.org.uk